Best Android Launchers You Should Try 2023
- You would agree with me that for mobile smartphones,
Android
devices have proved their mettle. There are a lot of reasons people choose
Android
devices. What makes Android smartphones popular is its versatility. Android devices come programmed with a lot of features and functions. The ones are worthy of mention include:
The Android Operating system supports tons and tons of customization options. The only limitation here is how much you can customize your Android device.
Relatively cheap compared to their closest competitor –iOS devices. This is definitely the only reason Android devices have more users than the iOS devices[
Why a Need of Best Android Launchers 2023
It is a known fact that all android devices come with their own default launcher. Even these default launcher offer a lot of personalization possibilities if you know what you are doing. The limitless customization options of an android device gave rise to third party launchers available for download on the Play store. As an android user, all you need is to log in your Google Play Store and you have access to tons of launchers. As good as this opportunity was, it came with its own demerits. Because every tom, dick and harry can just develop a mediocre app and post it on the Google play store, selecting the best became a hard task.
There are different launchers you can choose from. They come in free and paid editions depending on how much you will pay to customize your Android device. While it is safe to download the free launcher apps, buying paid apps offers a real value for money. This is because the developers have perfected their app with little or no bug or glitch. Sadly, that much can't be said about all free launchers. Yes, not all free launchers but there are a few you will see on this list that has passed the test. The list we compiled below includes both paid and free launchers and we would show which is which.
List of Free Best Android Launchers in 2023
One advantage of using these third party launchers is that they come with pre-set customizations you can use without stressing yourself. This means without any other apps or technical skill, you can make your Android device as cool as you want.
That said, here are our five (5) top must-have apps if you own an Android Smartphone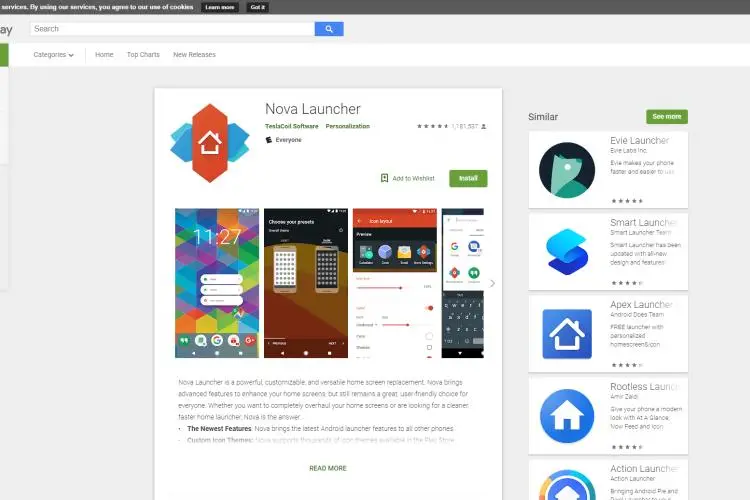 Nova launcher is one of the most downloaded launchers on the google play store and it is easy to see why. It is user-friendly, simple to use, efficiently developed, what have you. It is everything you can ever think of mixed in one.
The beautiful thing about Nova launcher is that unlike some notable launchers you have to buy the premium in-app, you don't have to with Nova. Nova Launcher comes in two different standalone apps. There is free, and the paid one. The only thing is you have to download the free first before downloading the paid one as an update.
I use the launcher on my android device as a matter of fact. I have been using it on every android device I own for the past three (3) years. Just so you know, I used the paid version of the launcher ( Prime Version).
Nova Launcher allows you to totally redesign your Android device. With Nova, you can:
· Icon themes: there are tons of themes you can download using Nova Launcher to customize your android
· Colour: The only limit here is your imagination. You can change and mix the color of everything on your launcher from folder to app label etc.
· Widgets: what's more? It supports widgets for your home screen
· Backup and Restore: This is perhaps one reason I keep using Nova Launcher. You get to back up your launcher layout and settings.
You should know that the premium or paid version only offers more personalization options, and it is not compulsory you have it.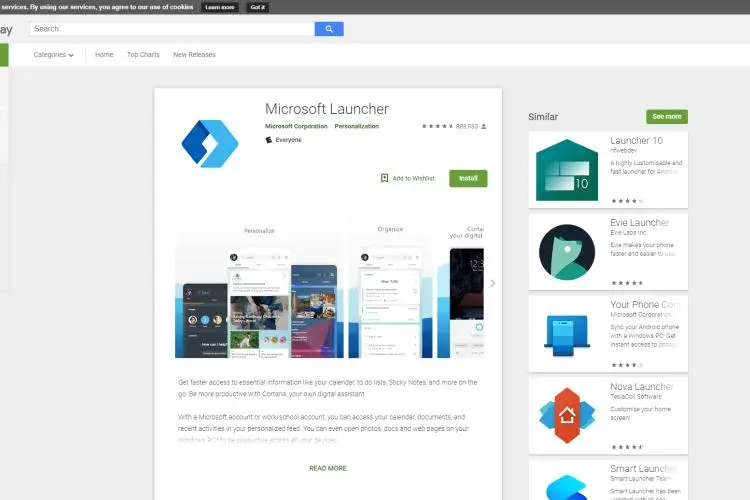 The Microsoft launcher is one of the best free launchers on the google play store. it is specially made for users who are love with Microsoft software. It is also for people who are transitioning from using a windows phone to an android phone. Microsoft Launcher makes your phone look and works like a windows phone. the interesting thing about the launcher is that it allows you to connect your phone with your Microsoft account. This means you can sync your computer with your phone easily. Here are a few other impressive things the launcher can do:
· Gestures: this is also in most apps but it is efficient on the Microsoft launcher. With this feature turned on, you can make certain gestures so that your android can open any app you want.
· Sync your devices: the Microsoft launcher comes pre-installed with some apps you need to update. Once you do this, you can sync your PC and your phone together. This implies that you can type a document on your Android device and instantly continue it on your PC. You can even take a picture on your android and edit it right away on your PC.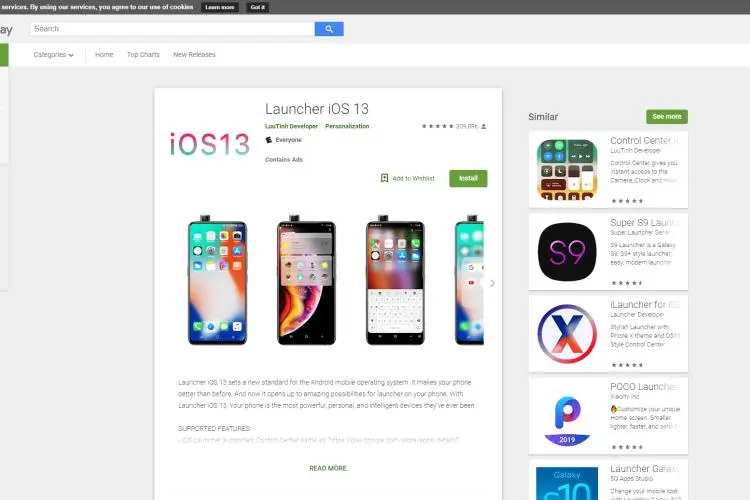 This is made by a developer named LuuTinh. The brilliance behind this launcher makes it worthy of mention on this list. There are a lot of reasons behind wanting to install this launcher. Probably because of financial reasons you could not get an iPhone. or you had an iPhone before but you are now using an Android device. Whichever is the case, you can be guaranteed of one thing, the launcher delivers! Here are some features that made it make the list:
· iOS 13: it does exactly what its name implies. With the launcher on your Android, your phone will look like an iPhone. it will mimic iOS 13 operating system. The settings menu will be organized into an iOS-like one. Every control and gesture from Apple's Assistive Touch is available for you to use. You also get an iOS theme.
· Apps and Animation: iPhones are known for their rounded-corner icons and animations. This is exactly what you get if you install the app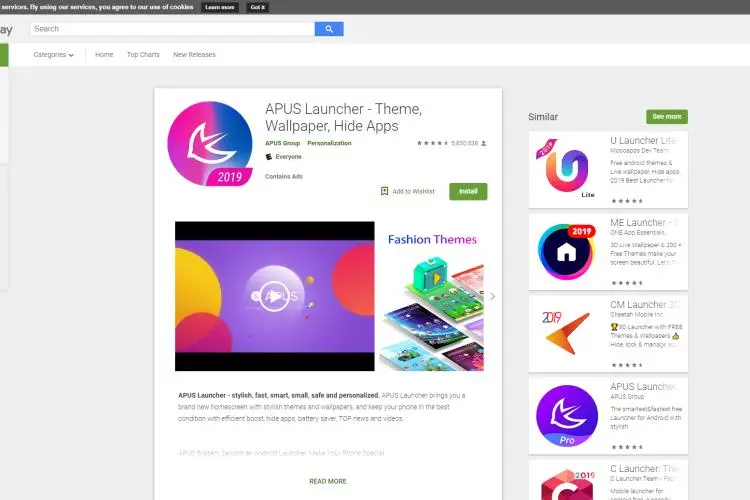 Apus Launcher is one of the fastest launchers out there. It does not just make your Android device fast, it also makes it special!
Here are some features that make it awesome:
· HD wallpapers: The team that developed Apus are active. They always release new stylish and beautiful themes every week. It also has HD icons which work depending on the graphics capabilities of your device
· Fast and Efficient: the Launcher comes with a "Boost" feature that can speed up your phone whenever you want. This makes sure your device is always running fast and smooth
It also comes with an in-built "battery saver". It is efficient and can extend your battery life.
· App privacy: with APUS launcher, you can easily hide some personal apps with ease. You also get to password protect such apps.
In addition, there is an app that comes with the launcher –App Lock. The "app lock" app allows you to lock your apps without hiding it. it is even more secure than the ordinary hide app feature.
· News and Updates: APUS launcher has a feature called APUS Discovery. This feature will provide you updates on trending apps, videos and events. It also informs you about current interesting festivals near you.
"APUS Know News", another feature on the launcher provides you all kind of news. From sports to entertainment to business, APUS has you covered.
Apus also has a smart control menu that gives you access to a lot of things. It is definitely one of the must-have apps.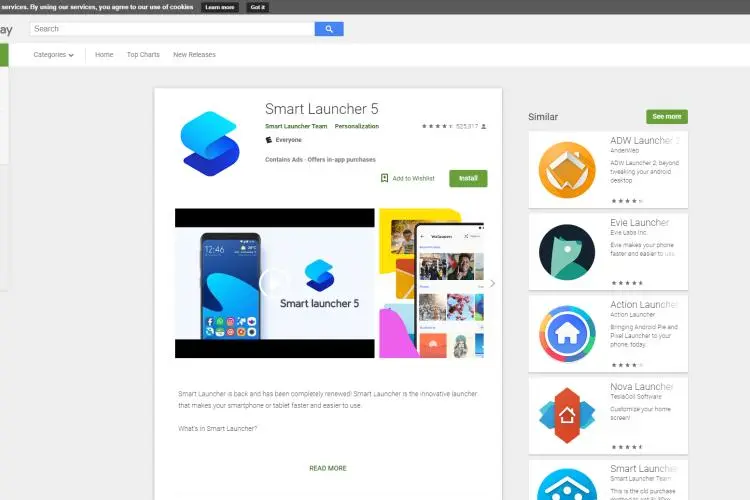 This is the last launcher on this list. Smart Launcher is the 2023 latest version in the smart launcher series. The smart launcher series has been around for a while now. The launcher has been improved over time. There are a lot of things you can do with this launcher. Some prominent ones that make it really awesome will be discussed here:


· Ambient theme: The launcher lives up to its name here. With this feature, the launcher automatically changes the theme color (layout color of your device) to match the color of your wallpaper
· Adaptive Icons: this version of the smart launcher series uses the icon format of latest Android OS which allows you to customize your icons. You can tweak both the size and shape of your icons as you see fit.
· Search Bar: this feature is very handy and can be seen in a few launchers. With this feature, you can:
- Quickly find contacts;
- Add contacts using the search bar;
- Search and Launch an app;
- Perform calculations; etc.
There is a Pro version you can unlock in the app. The pro version allows you
· To integrate notifications with your lock screen
· Increases the security of your phone
· You can hide apps and lock them using PINs
Conclusion of Best Launchers for Android
It should be noted that the launchers above were written in no order of preference. This means that any of the launchers could have easily been placed at No. 1
You can download any of them you think suits what your taste. The best thing about all the five (5) launchers mentioned is they are definitely worth the trial.