Is it just me that finds it frustrating as well as tiring when asking for directions to a new city or town? Definitely not! The sometimes awful reaction, tongue-lash and all that comes with it. You could even be lead erroneously. And at the end of the day, you get yourself worked up with little or no success.
Why a Need for Gps and Navigation Apps?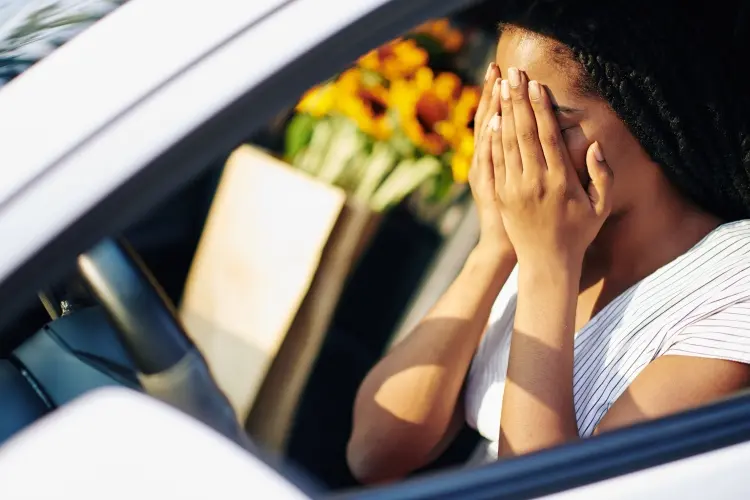 However, you now have the privilege of having this old and frustrating method taken out of the equation as your iPhone features a blend of several old but profitable kinds of stuff with modern products easy enough to fit into your hands.
No argument about it. You do a countless number of things on your iPhone regularly. Such as, monitoring traffic to and from work, getting valid directions to the desired destination in the shortest possible time, even if you haven't been there before.
Maps, GPS and navigation maps are the go-to tools in times when you need to get accurate direction on a path, and the shortest possible time it will take.
Take, for example, you're on a journey to a new city and want to get the best points and places it has to offer or in a situation where you want to avoid, at all costs, missing your way again, GPS and navigation maps are your best bet!
With that in mind, consider having these best GPS and navigation maps on your iPhone device this year, 2023.
It could be quite a lot of trouble when you have a pool of options to select from. But, take the easy-chair as we simplify the whole equation to help you make the right decision.
Quick question - What kind of Navigation App should you employ?
From getting first-hand traffic updates to the well-detailed travel guide, topnotch user experience, offline maps to prevent high consumption of cellular data and many other whatnots that majorly tops the chart on your scale of preference, you need to rightly pick the one that serves best these requirements.
Worry not, as we've provided you with the top benefits of each of these apps below.
List of Best Gps and Navigation Apps in 2023
So, garner strength and get your highlighter pen ready as we journey through it together. Let's go!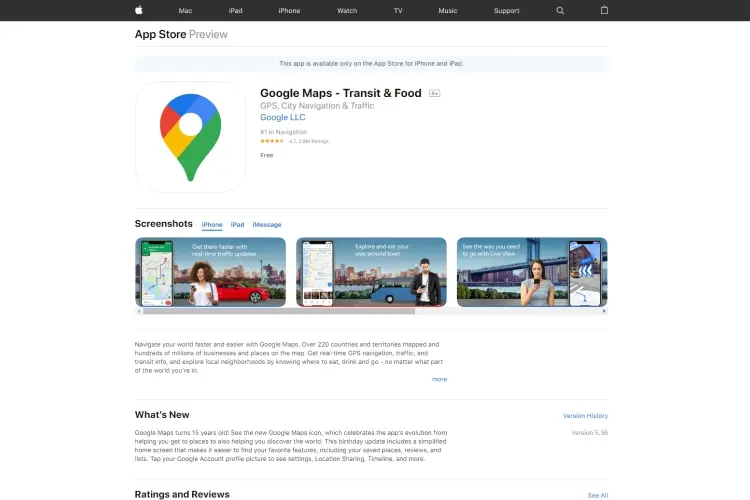 Talk of a reliable GPS and Navigation tool- google map it is as it is arguably the most sought-after navigation app, globally speaking. Established by Google.
The unrestricted app offers some interesting characteristics, they are;
· Correct traffic info
· Automatic re-routing in navigation probably due to missed turns and/or exits.
· Offline maps are also very much available to help you save cellular data.
· Countless modes of transport for navigation.
That's not all! Interestingly, it gives a rare opportunity for the user to virtually visit a place before going there in person. This is done through street view and indoor imagery .
That's just a tip of the iceberg.
That's just a tip of the iceberg. Google maps has got tricks such as incognito mode and are readily available.
In fact, you want a navigation tool that gives reliability and flexibility with global recognition, then don't walk too far, Google map is the answer.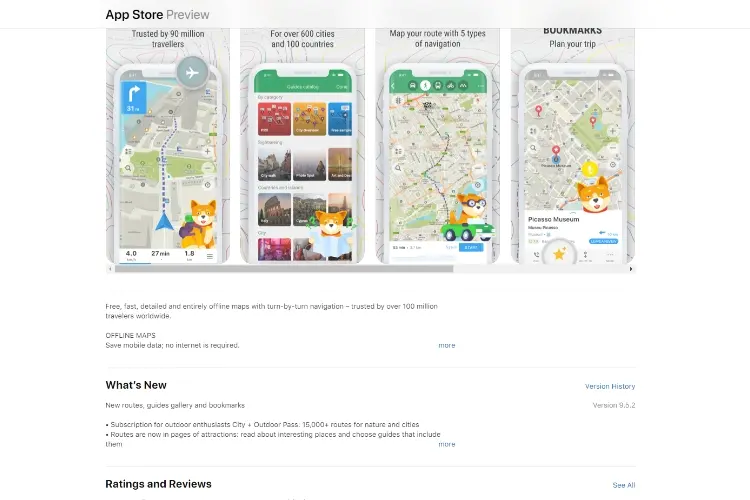 Are you a tourist? Then this is specially for you.
A free map that contains maps of over 600 cities across a whole lot of countries , isn't it amazing?
It includes;
· Well-detailed maps
· Restaurants where you can quickly grab a bite.
· Gas stations
· Tourist destinations
You can also download offline images. A true lifesaver when you find yourself in places with spotty cellular data connection.
Its accuracy can be trusted all thanks to open contributors.
However, it is important to note that to truly maximize the information it can offer, you need to go premium.
That aside, you earnestly need a simple GPS and navigation app on your iPhone, Maps.Me is your best bet!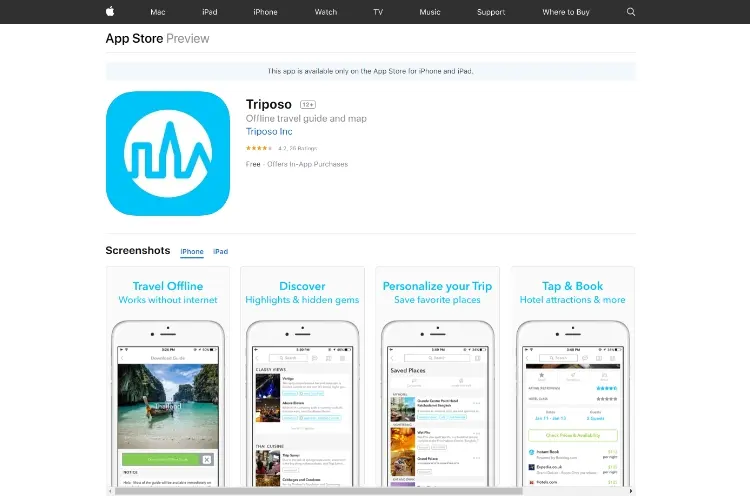 Can also be classified under navigation maps for tourists as it doesn't contain a complete world map. It only features maps for a lot of tourist destinations.
The maps can be downloaded for offline use, as such, saving cellular data.
Not forgetting, it also shows a good number of interesting points on the maps and guides users to their desired point of interest on the map.
With Triposo, you can get hotel reservations, book tours and other activities that come with it right there on the app.
Lastly, it allows you to create city walks and guides you through the journey. You are totally in control here. So if you decide to make it long for more sightseeing or short, no worries or itches.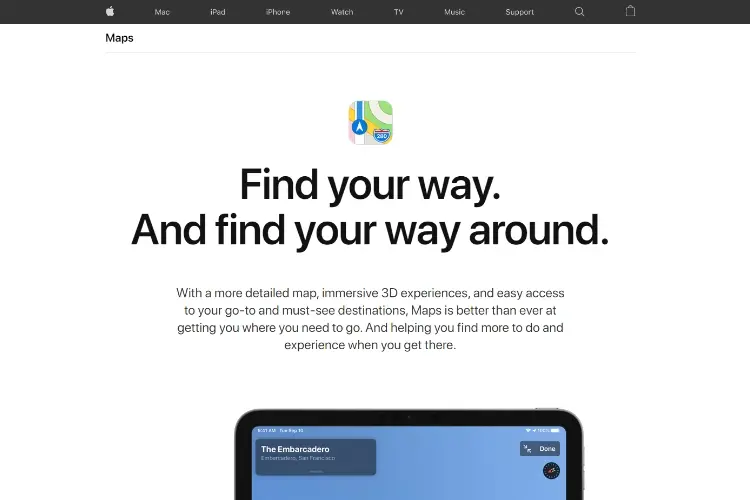 Launched by Apple in 2012, it has crawled at the back of Google Maps, but now arguably a true rival.
Apple Maps is totally free as it comes with the operating system and is available on iPhone and iPad.
The app features a very simple interface, and it is directed towards allowing users to pick their desired destination, afterwards, gives proper guide and navigation.
One interesting thing about Apple Maps is its interplay with siri and it gives users a free range of taking a quick look even if the iPhone is on lock mode.
One last thing before we draw the curtain on Apple Maps is that it gets better if your car comes with the Apple car play feature because right from the moment you park your car, your iPhone device saves the location of your car automatically.
That means it can be a true lifesaver when you're in a new city. So, you need not go through the trouble of brainstorming on where you parked your car.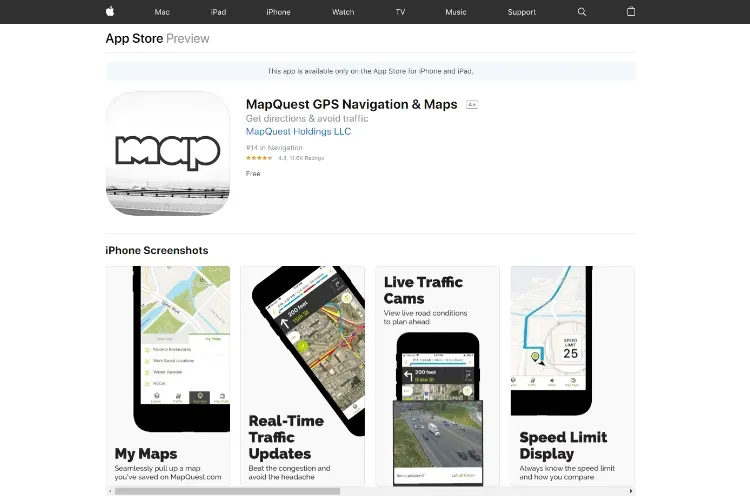 You want to avoid those terrible traffic jams and get to your destination safe and sound? Then you'll be interested in what MapQuest has to offer.
It comes with features like;
· Live traffic info
· Voice-enhanced navigation
· Instant re-routing based on the current situation of the road.
· Comparing prices of gas stations around.
These features definitely help you save time.
You've had all the aforementioned in check but the weather still incapacitates you?
Worry not as it gives you the opportunity to check local weather so you need not worry about getting caught in bad weather conditions. MapQuest, generally is loved by a lot of iPhone users.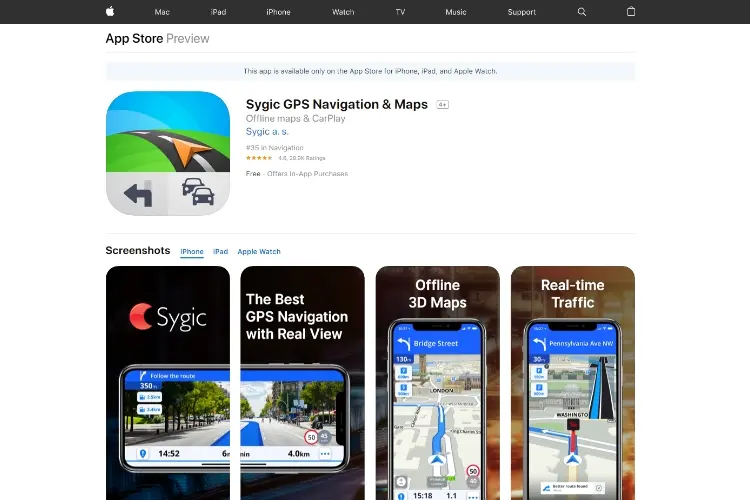 Lane guidance for safe lane changing? Yes, Sygic GPS offers that feature and other interesting ones listed below.
· Voice-enhanced navigation
· Real-time traffic updates
· Speed camera warnings
Amazing features right?
One thing I like about the voice-enhanced feature is that it enables you to concentrate more on driving without having to keep glancing on the navigation displayed on the screen.
That's not all I tell you! It also offers;
· Pedestrian GPS navigation to help you walk around even in a new city.
· Parking suggestions to promote safety.
· Automatic recording of the road up ahead, provided by the dashcam to help give afore knowledge in times of accident or roadblock.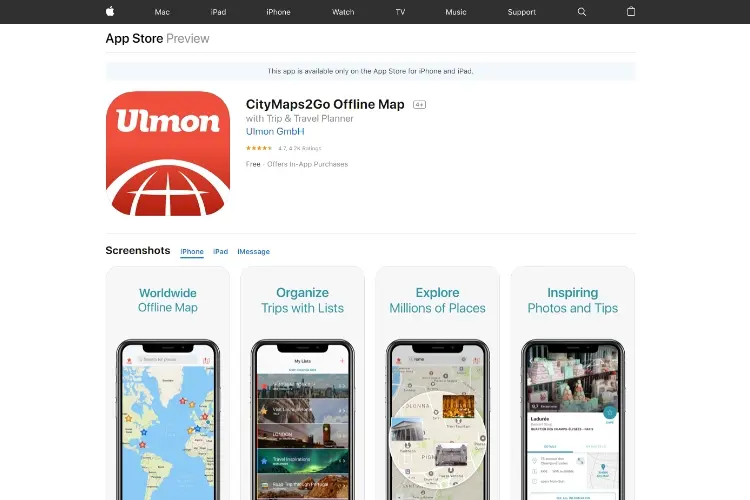 With over 150 countries and 60000 destination, we can arguably conclude that it has the most well-detailed maps.
It comes with exciting features, like;
· Well-detailed maps that can be downloaded for offline usage.
· You can also save city and street maps or even maps for a country at a go. Isn't it interesting?
· You are also free to mark and save places, and even create a list of categories of your choice.
· Interestingly, you could also call for an uber right from the app.
But, to enjoy all the benefits summed in this app, you have to go premium. Just a few cash will do.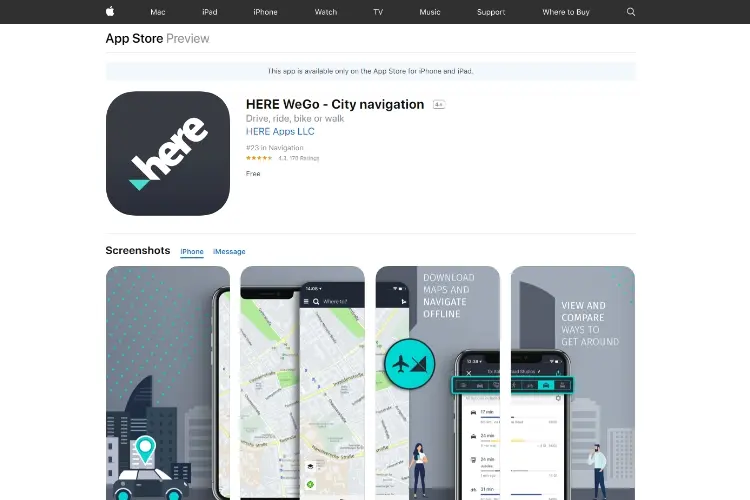 It was formerly called Here Maps by Nokia. It presents good coverage in more than 100 countries coupled with the public transport info for over 1300 popular cities.
It has features such as;
· Countless mode of transit for navigation
· Offline maps for easy navigation even when you find yourself in a spotty area with no data connection.
· Offline features that gives street information also readily available.
· Ticket prices for those planning on using public transport, and taxi fares for others interested in taking taxi.
Looking for a navigation app that leads you straight to other top services? Here WeGo is there for you. It is integrated with lovely services like TripAdvisor, Expedia to help you plan your journey with no stress at all.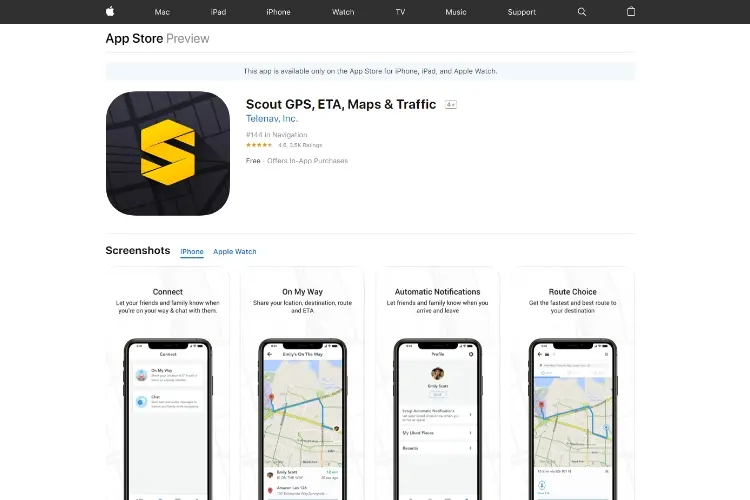 Exciting features are up for grabs here.
· Live traffic updates
· Info on speed so you're abreast of every situation, like when you get to your destination.
· Reliable information considering the fact that it is sourced from Openstreetmap
· Voice-chat enabled to keep you in contact with friends and kinfolks.
· You could also download offline maps to keep you abreast of the present situation of the road thus, saving cellular data.
While it comes with a free package, you'd need to drop some few bucks to get access to all it offers.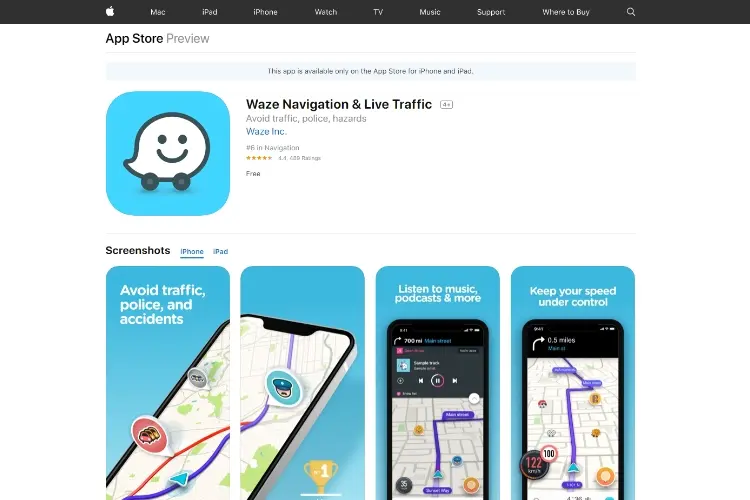 Last but not the least! A little bit different has it solely depends on users to source its traffic info. Not only that, it also gives room to users to give comments and/or reports on roadblocks, possible road dangers, and even accidents to mention just but a few.
What will having this feature do, you may ask. It actually helps users to give signals and updates about what is happening or just occurred on the road. So that way, you wouldn't get stuck.
We ain't done yet.
It also has some other exciting features, such as;
· Voice-navigation
· ETA sharing features.
Look no further if you're in search for a GPS and navigation app that has got you covered in terms of not getting stuck by unforeseen circumstances. Waze is the real deal.
Now you may say all of these navigation apps have got exciting features. Obviously, you are right!
Just try anyone that meets your requirements and possibly play around them. You never can tell what you're going to face while on the road.
So, put everything in your tool-box and apply where necessary.
We'll love to read your experience in the comment box as we all learn together.