Best XCOM 2 Mods To Enhance The Gameplay in 2022 - The popular XCOM 2 game which is a tactical game and turn-based comes with so much fun. However, being the commander whose job is to train soldiers for battle, you have a lot to work out.

You have one primary objective . That's to defeat the dreadful aliens who have taken over your territory. So, you must employ some professional skills to do this successfully. Well, as hard as this task may be, you make it a lot better and easier.
How? You may ask. With these fantastic mods for XCOM 2, you can enhance your gameplay and be in full control of almost everything. I am sure that you're curious to steer the wheels of your favourite XCOM 2 game. But before I begin to unleash the various mods, first get to know how to apply these mods. They'll definitely help you enhance your gameplay on XCOM 2.
1. Create a folder with the name "Mods" under the address \Steam\ steamapps \common\XCOM 2\ XComGame .
2. Download any of these mods
3. Move any mods you've downloaded into the. Mods" folder.
4. With these simple steps, you'll have your mind synchronized with the game launcher. That's all!!!
Straight off, let's check out the top 20 mods you can use to enhance your XCOM 2 gameplay.
1. Stop Wasting My Time - Mod Link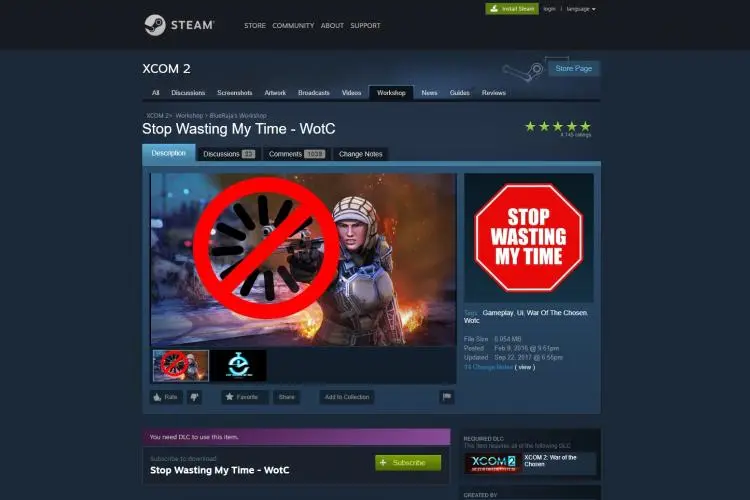 Am sure that you experience some unnecessary breaks during activities in this game? Such breaks can so ruin your progress in the game. Most annoying about is the break that comes when you are running for convert. Sometimes they come in when you are shooting at target or after killing an enemy. If you want to overcome such intermittent breaks, here is the remedy. Stop Wasting My Time is the mod you need to have a smooth gaming experience on XCOM 2.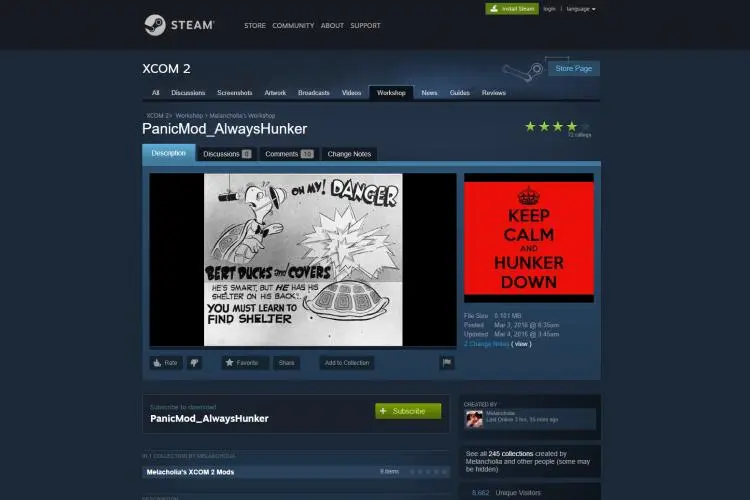 It amuses me to see soldiers in the game stupidly running into the line of fire while shooting. But in most cases, this doesn't give you the real gaming experience you expect. This becomes necessary since on a good day, soldiers are should run for cover. But the reverse is the case here when you have them running into the line of shot. With this mod, you can instill some sense into the soldiers. By this, they will run away from the line of fire instead of doing the opposite.
3. Advent Officer: Call in Reinforcements - Mod URL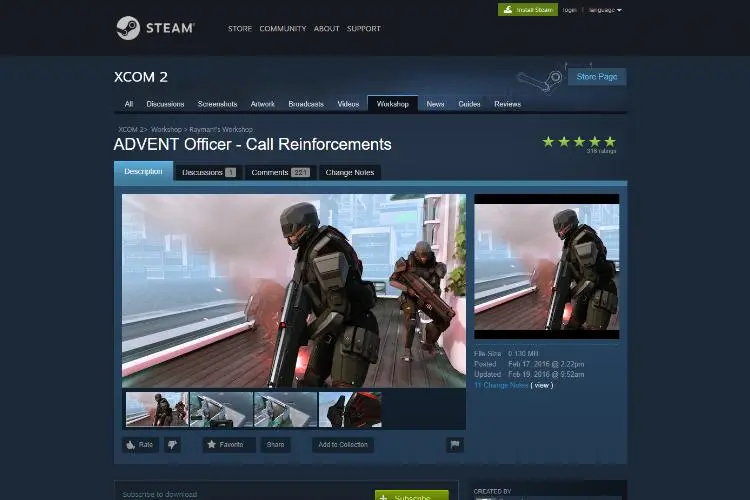 Know that this mod works against you in favor of your enemies – the Advents. With this mod, you are giving the Advent Officer more ability to call out more of his troops. They keep coming even as you continue to wipe the initial ones. However, you can only do this once at a time, and you can also decide hose strong the backup will be. This brings more challenge to the XCOM 2 game. Sure, you'll love this.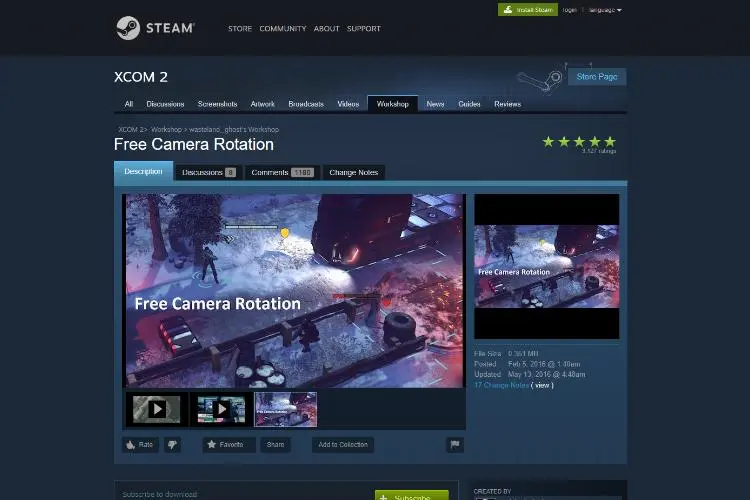 XCOM 2 is a game where strategy is vital. What this means is that you can't make progress if you aren't having a good view of your surroundings. With this, moving your camera around becomes very important. For optimal strategic movement, this mod will help you to zoom in and out. Similarly, you can also rotate your camera view at an angle of 45o.
5. New Countries - Mod URL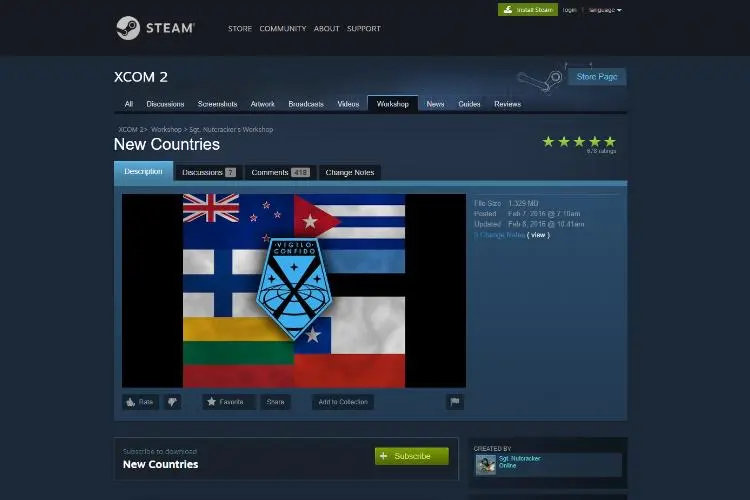 This mod will give you more destinations and terrains to catch more adventure with your game. Like you will rightly guess, this mod will add more countries to your XCOM 2. You can gain more experience also from this mod. With the 21 new soldiers from various nationalities, you can also learn their tactics. From the UAE down to Slovakia, you can get new soldiers to fight with.
6. A Better Advent 2 - Mod Website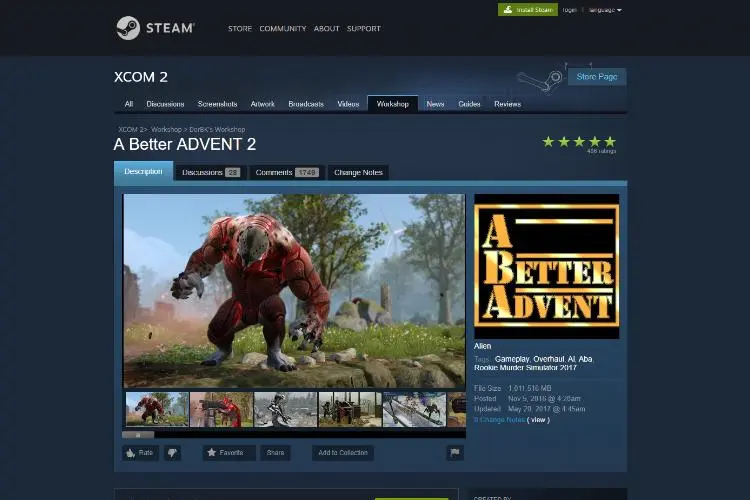 This is artificial intelligence for XCOM 2. With this mod, you automatically increase the game's difficulty. Doing this is a way of challenging yourself even more on tedious adventures. Worthy of mention is the fact that this mod adds new creatures for you to challenge and conquer.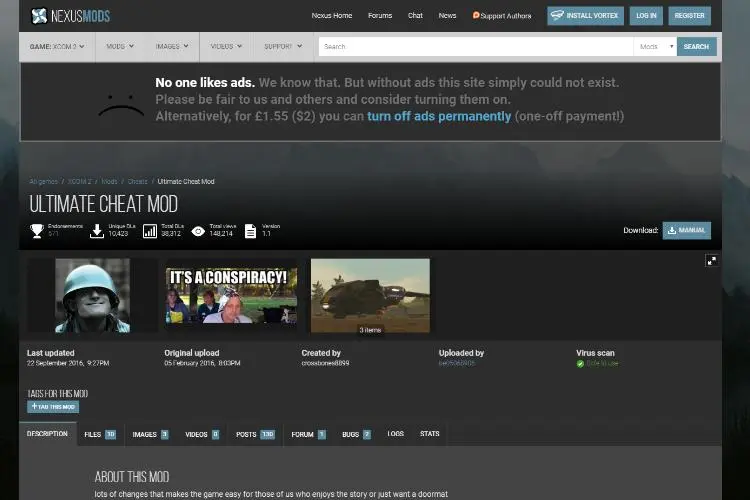 Here you are with the full control of almost anything and everything in the game. With this mod, you can open up a world of endless tricks. And as you already know, these tricks can make almost anything that was impossible in XCOM 2 game to be possible. Doubt me? Here is something you'll like to do with this mod – stopping the Advent Clock and roaming around the whole place at your pace
8. Stabilize Me! - Mod Link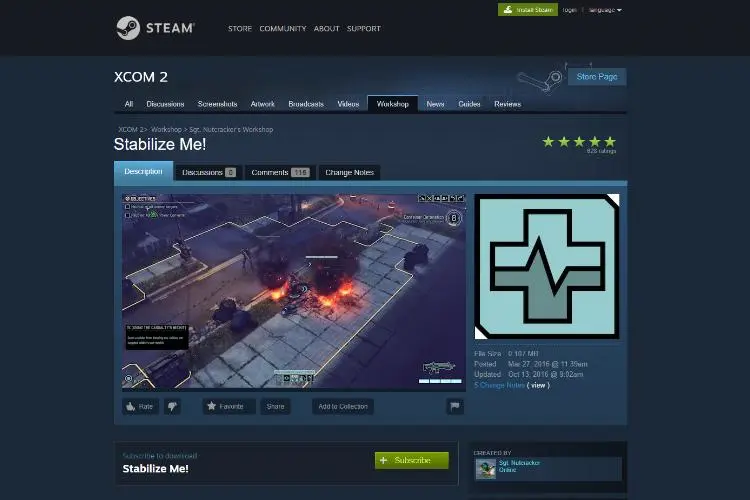 Although many people see the feature of this mod as being minor , the truth is that these features are very powerful in XCOM 2. This mod gives you access to a medical kit. This kit helps you to treat your troops from dying through bleeding quickly. Sure you won't like to have your troops die easily when your medics are out during the war.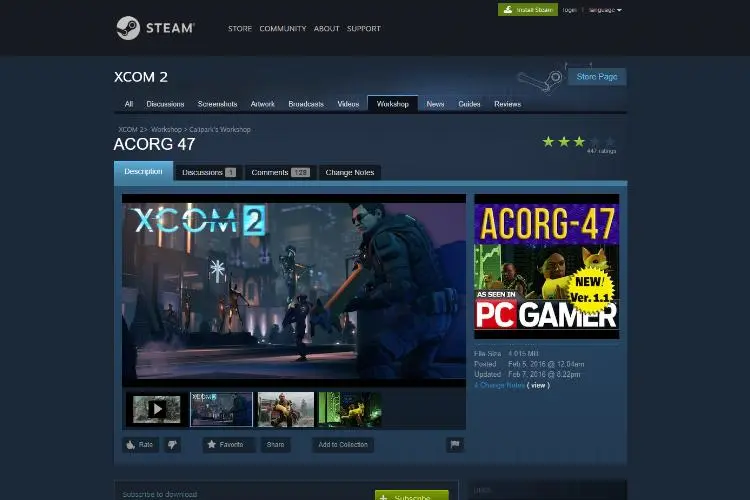 With this mod, you can replace all you guns with corgis – a little dog. When you fire your corgis, the dog sticks out its tongue and destroys your enemies in their hundreds. You really need to see corgis in action.
10. Muton Centurion - XCOM2 Link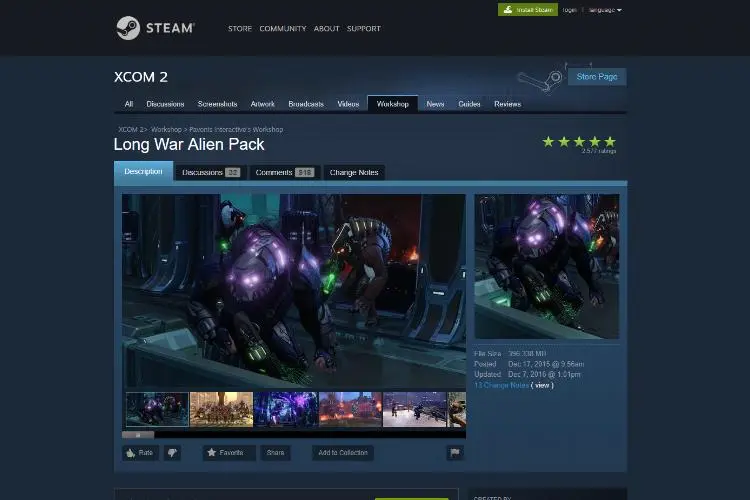 This is another great mod for you if you need a super-challenging scenario. This mod brings new muton which are stronger, larger, and deadlier. With this mutons, you are sure that you will take your regular aliens unaware. Well, you have to get ready as well because your aliens will also equip themselves to face these mutons.
11. Show Me The Skills - Mod Site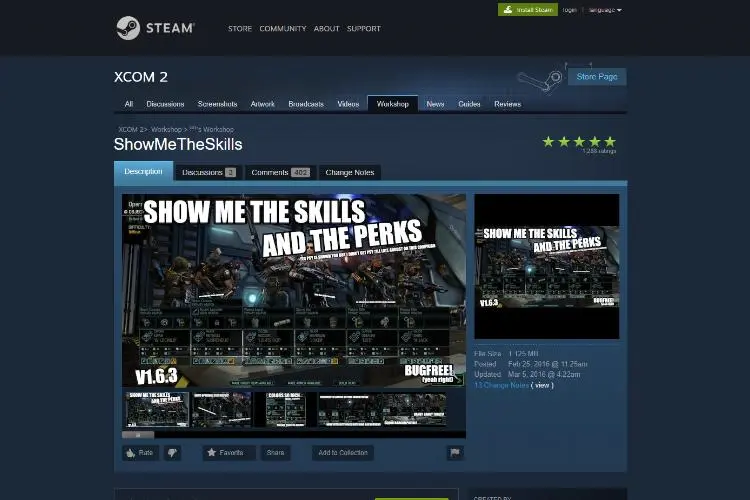 This mod in XCOM 2 will make life a bit easier for you. Since there is no summary of info about XCOM, getting some things gets very difficult. Take, for instance, locating a grunt with your default skill is a hard thing to do. But with this mod, you can easily have info about some skills you may need at war. You can also set what stats you want to see, e.g., perks and others.
12. Evac All - Mod URL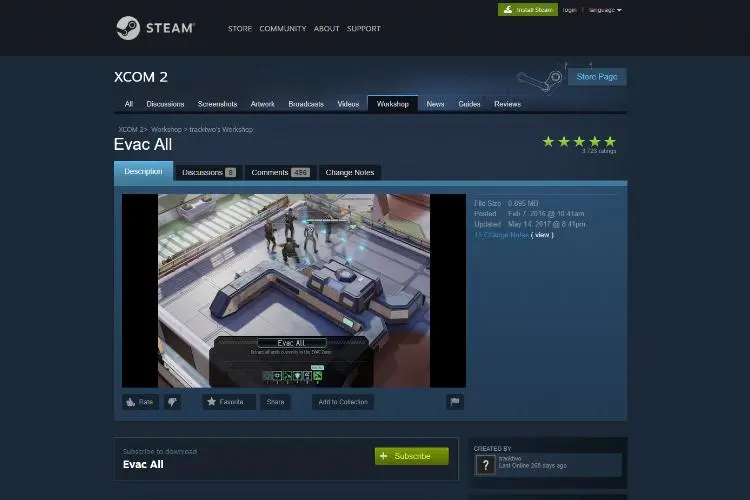 If you are so bent on making things easier for you, here is another mod to get that. Evac All is a very simple mod which should have been a default skill in XCOM 2. Well, this mod helps you to evacuate all your soldiers with just a click. In summary, this mod saves you from clicking individual soldier to evacuate them.
13. Grenade Damage Falloff - Mod Link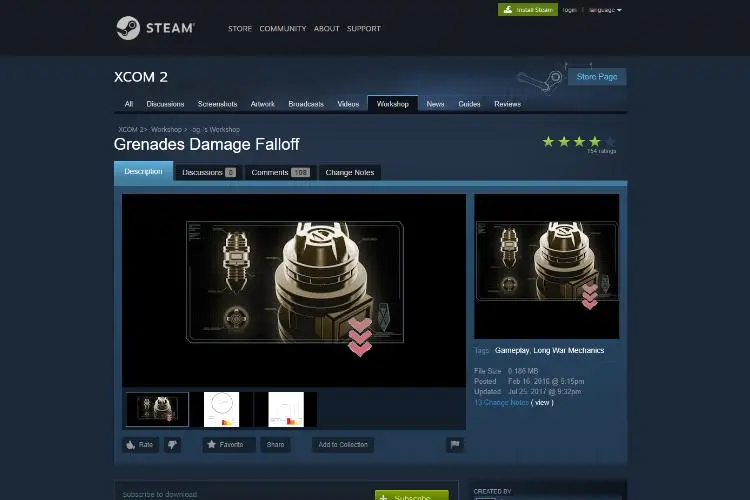 Blowing things up without a second thought can be a smart and quick way to solve problems. But in most cases, doing this alters your strategy and precision in the game. With a regular grenade, you can blow up all your enemies into tiny pieces. Well, the Grenade Damage Falloff mod reduces the effects of a grenade on your enemies. With this, it is only those at the center very close to the grenade that will die. And you are still left with those at the edge to tackle – yes, more challenge for you to face.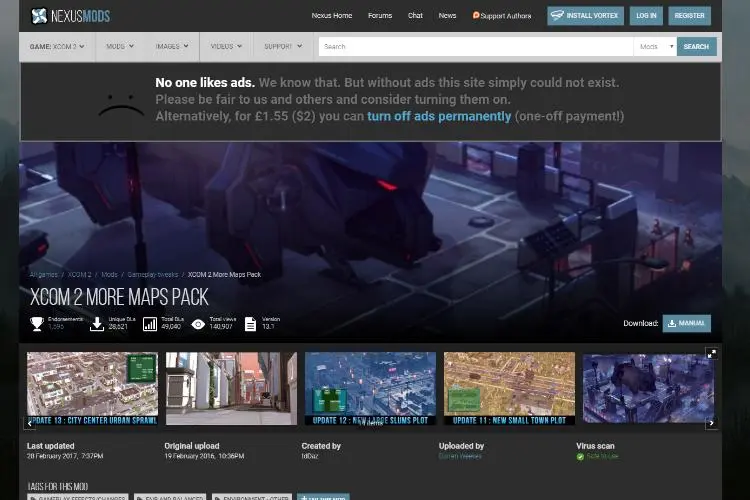 Although XCOM 2 comes with various maps and areas, you can add more for yourself. You can do this by acquiring a little packet of information to a place. With this info, you can create your unique environment. Also, this new environment comes with a different battleship for war. However, this won't change your level in the game.
15. It's Just A Scratch V2 - Mod Website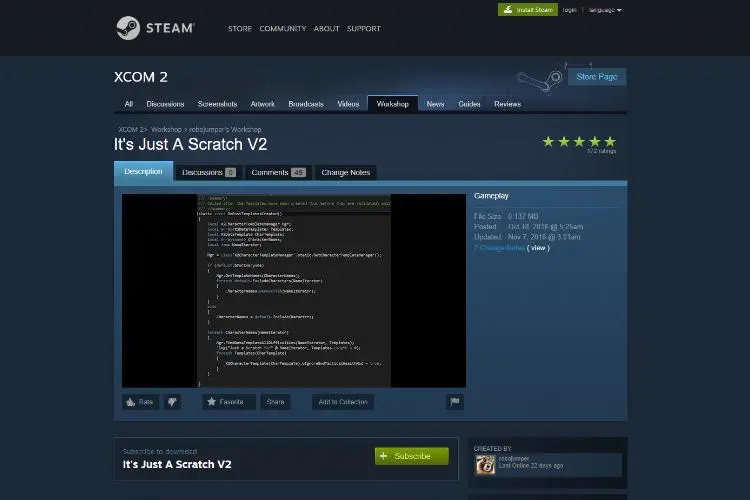 Spending so much time in the infirmary can really kill your morale while playing XCOM 2. With this mod, you can reduce the time spent in the infirmary for your soldier. Better still, you can avoid medicals in the infirmary completely with this mod. However, to achieve this, your soldier's health shouldn't fall below the max base health. And even if there is a need to visit the infirmary, this mod can help you reduce healing time.
16. Additional Mission Types - Modding Link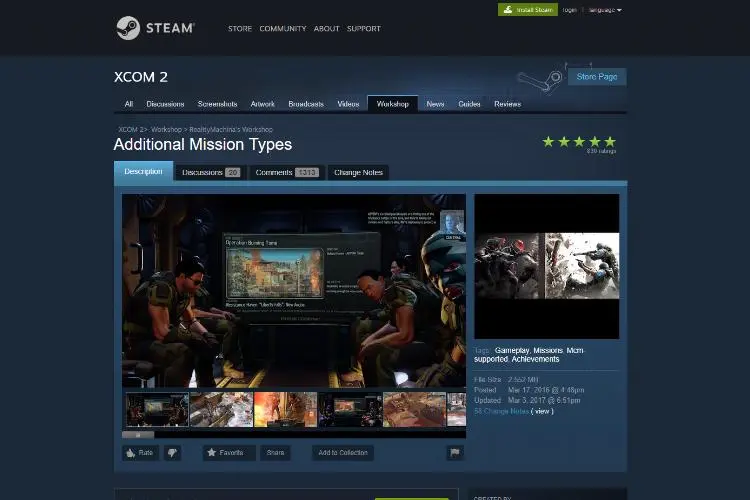 This is one of the best mods I love so much about vanilla XCOM. This mod helps you to intensify your fun by creating new missions into XCOM 2. Depending on what you want, you can add a defensive or neutralizing mission. If you choose to create a defending mission, you have to be ready to defend different cities. Why? Because the security of everything in those cities is under your protection.
17. Guerilla War - Mod Site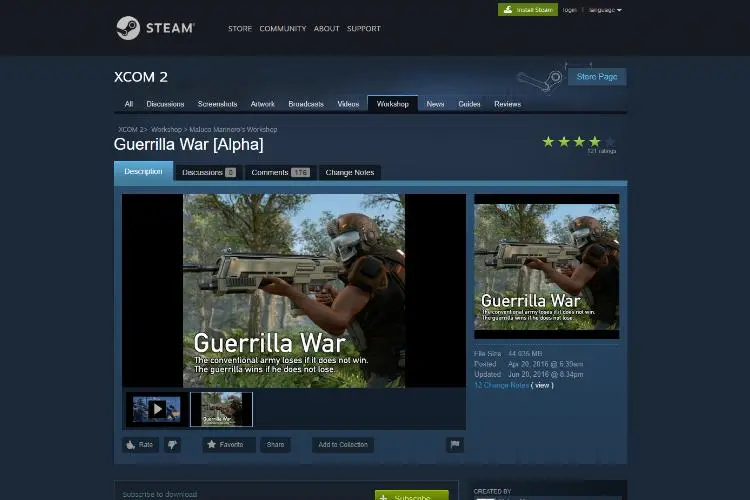 This mod requires that your thinking and strategizing prowess step up. With this mod, your aim is not to wipe all your enemies at sight. Instead, you are to complete the objective of your mission and also extract. By extraction, you equip yourself for the reinforcement of the aliens attacking you. Initially, aliens may be few, but as time goes on, their population increases. I love the Guerilla war mod as posses more challenge to me in a professional way .
18. True Concealment - Mod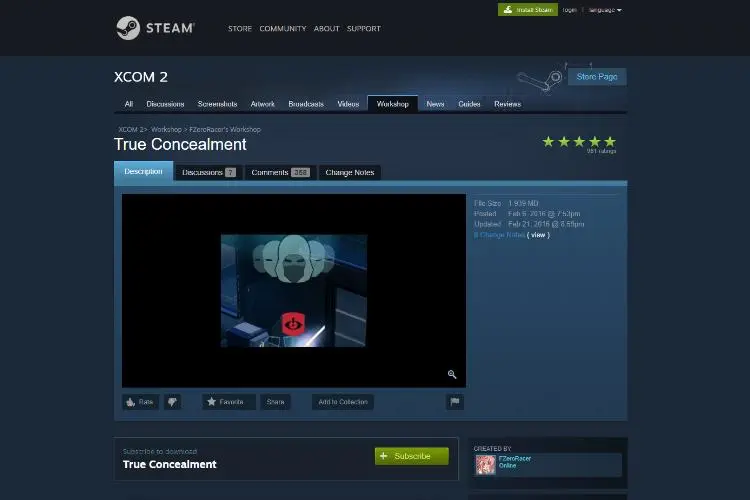 Unlike other mod where you can slow the time or even halt it, true concealment mod works differently. Whether for a difficult or gruelling battle, you can tamper with the timer fairly with this mod. Ordinarily, in vanilla XCOM, the time will start even when aliens are yet to spot you. But with the True concealment mod, things are different in your favour . By this, your timer only starts counting down only when aliens can see your first soldier. This is a good time management mod to check out.
19. Tactical Co-op - Mod URL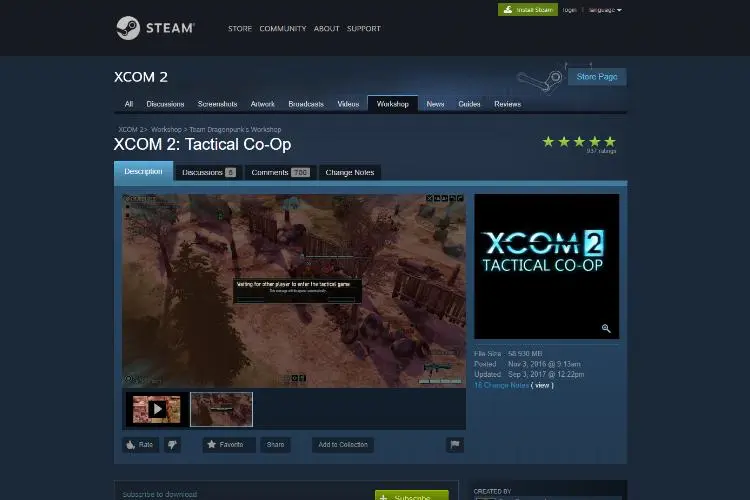 Here is a mod that is originally from the producers of XCOM, and it works fine with the game. In this mod , the normal 2-player XCOM work as a team to expand the team to a 12-player mod. Where this mod gets super exciting is in the fact that you can suffer the dice roll with your friend.
20. Long War Alien Pack - Mod Link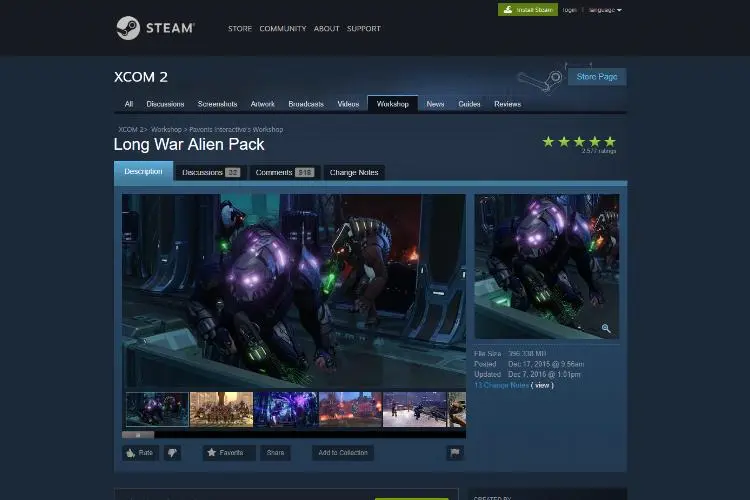 Are you hungry for more souls to kill? If yes, then this mod will serve you very well. In this mod, a new pack of monster and aliens comes in for your challenge. To make things worse, these aliens and monster have different abilities. Some can shoot pretty well like no man's business while others are simple some old beings. Yes, old beings looking for whom to waste them away. You can even have the Muton Centurion mod in this mod.
What have been wishing to do in your favourite vanilla XCOM 2 game? I trust that with these mods, you'll not have anything to wish for again. With these mods in this article, you can tweak your gaming experience to whatever mood you are.
Go download these mods, check them out and let me know what you think of them. I bet you'll love them all. Enjoy endless possibilities on XCOM 2!!!